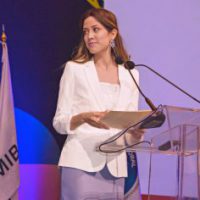 Ivette PATRÓN
Collaborator Member
Biomedical engineering from the Autonomus University of San Luis Potosí, México.
She did her professional internship in BiocorLabs, where she developed an obstetric hemorrhage control device, which motivated her thesis in the image processing that tilts "3D Uterine Model based on Ultrasound Image in Mode B".
She has collaborated with de Mexican Society of Biomedical Engineering since 2014, carrying out various organization activities. She has been part of the committee of the National Congress of Biomedical Engineering, also she has been coordinator of the Biomedical Technology Expo.
She is currently a Chief of the Diagnostic Department in Health Technology Assessment at CENETEC.