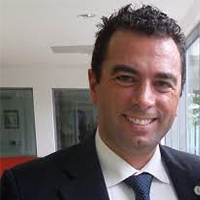 Leandro PECCHIA, UK
HTAD Collaborators, Past chairman
Leandro Pecchia received the degree in Biomedical Engineering in 2005 and the PhD in Economy and Management of Healthcare Services and Organizations in 2009 from the University "Federico II" of Naples.
He is Assistant Professor of Biomedical Engineering at The University of Warwick, Coventry, UK, where he directs the Applied Biomedical Signal Processing and Intelligent eHealth Lab (ABSPIE). He has authored or co-authored about 90 journal, book and conference papers in the fields of machine learning and biomedical signal processing applied to healthy ageing, chronic diseases and falls in the elderly.
Dr. Pecchia is the Secretary General of theInternational Union for Physical and Engineering Sciences in Medicine (IUPESM), member of the IDMBE/CED, past-chairman of the IFMBE/HTAD, Chair of the Public Affair Working Group of the European Alliance of Medical and Biological Engineering and Science.
Visit: https://warwick.ac.uk/fac/sci/eng/people/leandro_pecchia/